Tips For Using A Pregnancy Pillow
Tips For Using A Pregnancy Pillow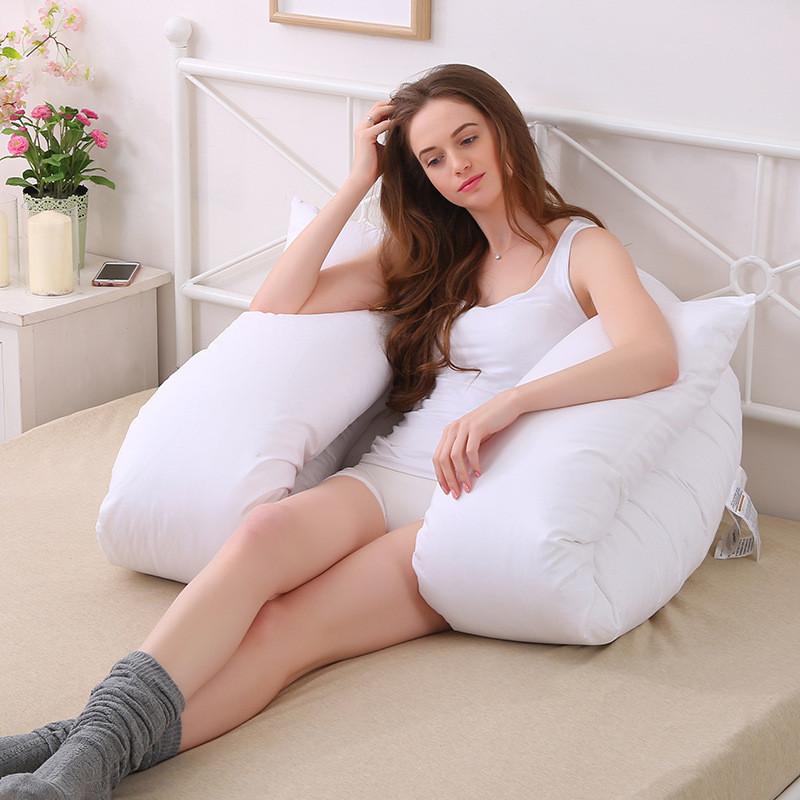 Tips For Using A Pregnancy Pillow
A pregnancy pillow is an excellent investment to make since it useful after your pregnancy as well as during it. Many women keep using their pregnancy pillows well after giving birth and weaning their babies. A pregnancy pillow can be positioned in many different ways, depending on what your specific aches and pains are. Pregnancy pillows are also available in various sizes and shapes. Be sure to select a pillow that suits your specific individual needs the best.

Choose The Shape Of Pregnancy Pillow

Step 1
Choose a wedge-shaped pillow. Using a wedge-shaped pillow allows you to prop your back or head while reclining or sitting or to support your belly or back when you are lying on your side. Wedge-shaped pillows can also be used for propping a hot water bottle against your back.

The reason why wedge-shaped pillows are so convenient is due to them being very portable and small. However, since they are small, you still will need to have a regular pillow to use for your head.

Select from a triangular-shaped or crescent-shaped wedge pillow, based on your preference. Different benefits are not provided by the various shapes.

Step 2
Try using a U-shaped pillow. A U-shaped pillow can be used for supporting your entire body from your neck and head all the way down to your back, stomach, and ankles. This type of pillow is great for women who sleep on their back. In addition, it is convenient for women who have a tendency to toss and turn throughout the night because the pillow doesn't need to be readjusted.

Typically u-shaped pillows are the most expensive type of pregnancy pillow. They are also the largest ones. So if your bed is small, then you should consider a smaller pillow instead.

Step 3
Choose a C-shaped pillow. They are smaller compared to U-shaped pillows, so if you have a medium-sized bed they are great. A C-shaped pillow provides support for your pelvic area, back, neck, and head. They are excellent for helping to reduce water retention in your ankles and legs and to relieve pelvic tension as well.

The only drawback to it is you will have to adjust your pillow during the night when you are switching sides.

It is also recommended that plus-size women use this shape of pillow since the asymmetrical shape enables you to shape your pillow in different ways.

Step 4
Choose a J-shaped pillow. This pillow is very similar to a U-shaped pillow. It is just smaller and doesn't have the extra side. So check out this pillow if you have a medium-sized bed. The pillow is great for back, neck, and head support.

Step 5
Try using a full-length or I-shaped pillow. They are straight pillows that run the entire length of your body. These look just like regular pillows, except they are longer. They are long enough for you to wrap your legs and around. However, they don't provide a lot of back support.


There are also flexible versions available for full-length pillows. The flexible ones conform to your body and bend, but they tend to be more expensive.

Position The Pregnancy Pillow

Step 1
Wedge your pillow underneath your stomach. While you are laying on your side, put a wedge-shape, full length or U-shaped pillow under your stomach. That will help to support your stomach, and also your back muscles as you are sleeping.

Step 2
Put the pregnancy pillow in between your arms and legs. Wrap your arms and legs around the full length or U-shaped pillow. The middle of the pillow should support your stomach. The position is similar to cuddling or hugging the pillow.

putting your pillow between your arms and legs helps to relieve the tension in your ankle and knee joints.

Step 3
Wrap the pregnancy pillow around your back. Wrap a J, U or C-shaped pillow between your legs and along your back. The position will provide your pelvis, as well as upper and lower back support while you are sleeping. If you aren't comfortable sleeping on your back, the pillow will help to prevent you from rolling over on your back as you are sleeping also.

A wedge-shaped pillow can also be placed behind your back in order to provide your lower back with support.

Step 4
Support your neck and head. Put a wedge-shaped pillow under your regular pillow to give extra support to your neck and head. The position will help to relieve symptoms like heartburn and acid reflux.

If you use a J, U, or C-shaped pillow, make sure your spine stays aligned by putting your neck on the head like you do when you use a regular pillow.

Choose A High-Quality Pillow

Step 1
Select a pillow with polystyrene foam or fiber filling. These fillings are both hypoallergenic, and also smell- and water-resistant. The fillings are washing-friendly as well, so their form is kept.

Pillows with this kind of filling tend to be more expensive and cost $60 or more, depending on how large the pillow is.


Just keep in mind, no matter what pillow you choose, be sure it is able to support your weight and won't lose its shape during your pregnancy. If you happen to be a plus-sized woman, for example, you might want to select a memory foam pillow because they have a tendency to hold their shape much better.

Step 2
Try using a lightweight pillow. A very lightweight pregnancy pillow is one that has Styrofoam balls as the filling. The balls also let the pillow easily conform to your body. One drawback that these pillows have is the filling makes a noise as you are moving around. This noise is very similar to the one that is made when you lay on a beanbag.

Typically this filling is found in less expensive pregnancy pillows.

Pillows that have Styrofoam ball filling usually are not machine washable. Make sure to select one that has a removable cover that can be washed.

Step 3
Choose a supportive pregnancy pillow. Pillows that have a microbead filling provide more support than pillows that have a Styrofoam ball filling. In addition, they don't make noise when you are moving around and are very lightweight.

Pillows that have microbead filling, like the ones with Styrofoam balls, tend to be less expensive, about $40 or more, depending on how large the pillow is.

Some pillows with microbead filling are machine washable and some are not. If you get one that isn't, then be sure to get one with a removable cover that can be washed.

Step 4
Try using a body conforming pillow. Pregnancy pillows that have a memory foam filling conform to your body. They hold their shape quite well. Unfortunately, memory foam is not too breathable. That means that these pillows may become quite hot while you are sleeping.

Memory foam pillows have a tendency to more expensive and can cost $100 or even more, and will depend on how big the pillow is.

Memory foam pillows are usually machine washable.

Step 5
Select a pillow that comes with a removable cover. Pregnancy pillows that have removable covers are really good since it makes it very easy to keep your pillow clean. You just take the cover off and then wash it according to the instructions that are on the tag. Search for pillows that have slip-on or zip covers.

If you like a pillow that doesn't come with a removable cover, be sure it is machine washable and will into your washing machine.

Step 6
Consider the size of the pillow. If you happen to be taller than average, consider buying a pillow that is 5 to 11 feet in length. If you are average height, you should buy a pillow that is 5 or 6 feet in length. The size of the pillow that you get also depends on your personal preferences and how large your bed is.

If you have a small or medium-sized bed, get a pillow that isn't too large for your bed.

Style can also affect the pillow's length. For instance, U-shaped pillows have a tendency to be longer than other kinds of pillows.

Step 7
Try using a firm pillow. You might be tempted to buy a soft pillow, but it is strongly recommended that you buy a pillow that is slightly firm at least. Firmer pillows provide more support and tend to keep their shape longer as well. At first, it might be uncomfortable, but you will get used to it over time.